With ongoing lockdowns and quarantines, museums around the world are coming up with innovative ideas on how to visit a museum (comfortably) from our own homes. Even the Dalì Theatre-Museum in Figueres has opened its doors, so to speak, thanks to an online platform it is now possible to take a virtual tour and explore the artists' history as well as numerous pieces of art – which belong to the Gala-Salvador Dalì Foundation.
---
It's obvious that other worlds exist, that's certain; but, as I've already said in many other occasions, these other worlds are inside ours, they reside on earth and are precisely at the centre of the dome of the Dalí Museum, which contains the new, unsuspected and hallucinatory world of Surrealism | Salvador Dalì
This building, noticeable from a distance, opened in 1974. Large eggs surmount the Galatea Tower and the iconic cupola, designed by Emilio Pérez-Piñero, stands out on the main part of the surrealist museum: this enormous transparent ball allows for natural light to enter the main room of the museum, and is illuminated at night, creating a marvellous visual effect.
Salvador Dalì conceived this place as a complete work of art: the Dalì Theatre-Museum was his last, great achievement. He wanted to create this grandiose work of surrealist art in his home town, Figueres. He had in mind the idea to create a theatrical museum, immersive, engaging and in constant transformation. For this project Dalì chose the old municipal theatre, which was destroyed in 1939 by a fire.
He chose this building taking into consideration three different factors: it was an old theatre hence was in line with his personality; it was in front of the church in which he was baptised; and his first exhibition was in the hall of this theatre. He had therefore a visceral bond, that has become eternal as his remains are preserved in the museum's crypt – per his wishes.
---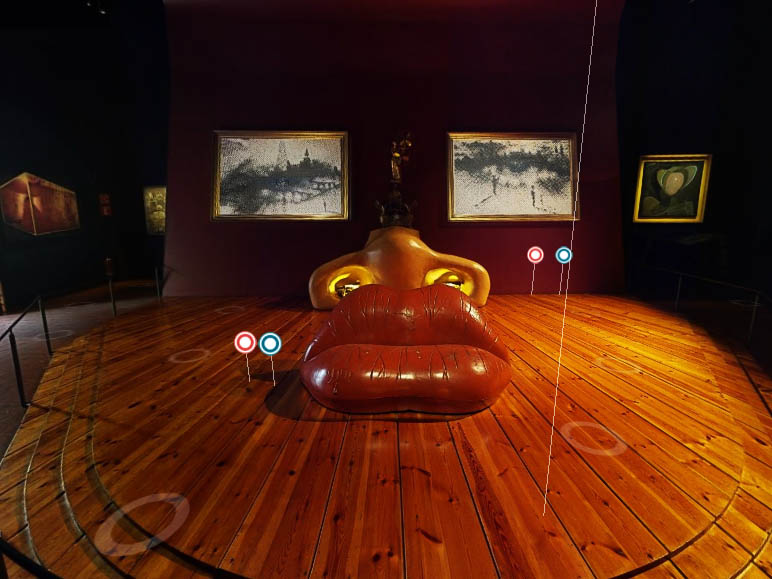 The Dalì Theatre-Museum hosts about 1500 works, including drawings, paintings, installations and sculptures. Dalì began this project in the 1970s and worked on it right up until his death in 1989. From his first artistic experiments to surrealism and his passion for science, everything inside the museum is about this Spanish artist an his extraordinary life – which he lived between the United States and Europe. On display, along with some of his most famous work (Self-portrait with Humanité, 1923; Galarina, 1945; Galatea of the Spheres, 1952…) there are also installations and permanent sculptures which were created specifically for the museum, for example Mae West Room and Rainy Cadillac.
The museum is divided in three different sections: the main area, the heart of the museum, is the one created entirely by Dalì; then there is the area with the works by Dalì belonging to the Foundation; and finally there are some rooms, opened in 2001, which hold Dalì's jewellery – marvellous pieces made of gold and precious stones – and the respective autographed designs.
The Matterport online platform allows us to visit the museum even from our phones. You can start your tour by clicking on the image below or by visiting the official website of the Gala-Salvador Dalì Foundation.
---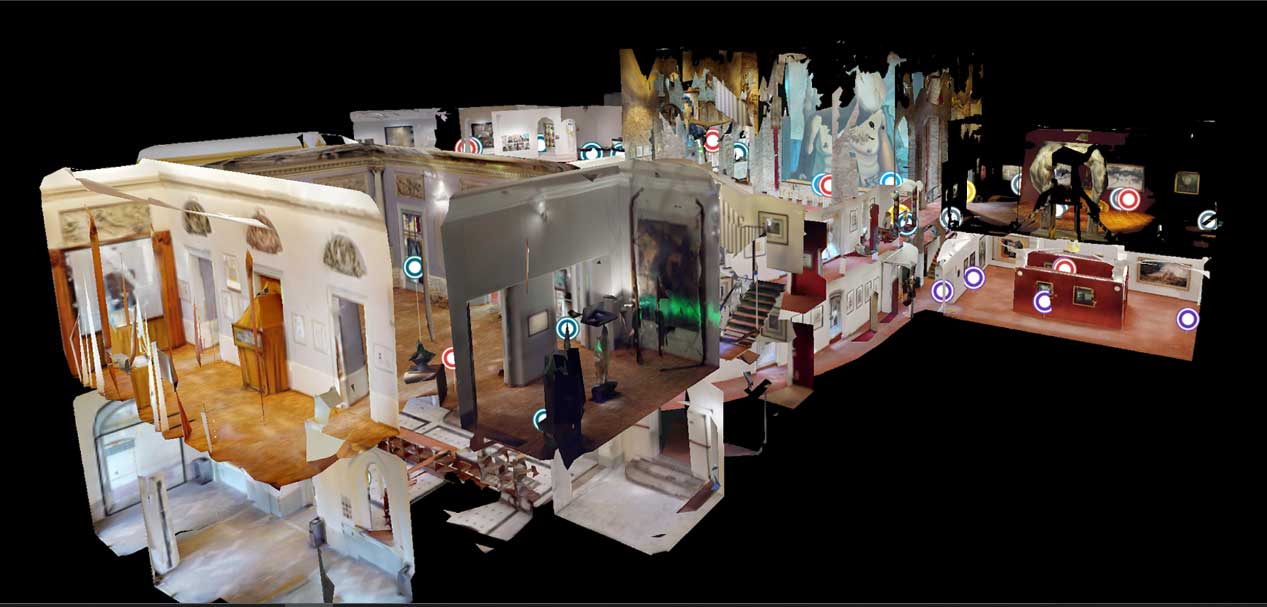 ---
Find out more: visit the official Dalì Theatre-Museum website.
Translated by Ludovica Sarti
Read other Curiosities